Why Contact Lens for Your Child?
Contact lenses are thin lenses placed directly on the surface of the eyes. They are ocular prosthetic devices used by over 150 million people worldwide. These medical devices worn directly on the eyes' cornea can help correct refractive errors. Therefore, it also performs this function by adding or subtracting focusing power to the eye's cornea and lens.
As contact lenses have several benefits, they are also not risk-free. However, improper use of contact can lead to temporary or permanent sight damage to the cornea. Sleeping with contacts, poor cleaning, or improper lens care can lead to infections of the cornea. Any caring parent would like what's best for his or her child, and after knowing how risky contact lenses could be, the main question arises; "At what age can children start wearing contacts?"
There's no 'official' age to start wearing contact lenses. However, it all depends on your child's ability to use and look after their lenses. Also, children are quick learners and have proven to be capable of wearing lenses as adults. Therefore, we'd recommend that a parent or guardian should supervise them to start with. Most optometrists recommend that the minimum age is between 12 and 13.
After this, if you're unsure, talk to one of our expert optometrists; they'll be able to tell you whether your child is suitable for a contact lens. Similarly, they'll also check if your child can insert and remove the lenses safely. A study has found that more than eight out of ten children and teenagers found it easy to clean and care for their lenses after three months of wearing them.
Children and Contact Lenses
Many doctors were asked this question by parents/guardians to know when it is safe for their children to have contact lenses. Their answers were almost the same; the responsibility, self-discipline, personality, and maturity level of the child matters, not the age. Most doctors' common factor in knowing whether a child is ready for these lenses. If he or she doesn't need to be reminded to brush his or her teeth or take their shower regularly. Some children are ready for contact lenses as early as 9 years old, while some are ready at 19.
The Centers for Disease Control and Prevention estimated that one out of six Americans wears contact lenses. Therefore results in 45 million people approximately in the United States and 3.7 million people in the United Kingdom. While 14.5% of  children under 17 years wear contact lenses.  So, anyone who is matured enough to understand how to take care of contact lenses and use them properly is old enough to use them. The decision of whether to wear contact lenses is between you, your child and your doctor.
Reasons Why You Should Allow Children to Have Contact Lenses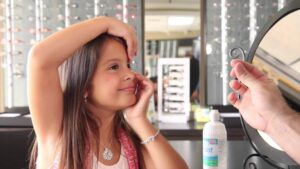 Some children have social issues that they are struggling with. Issues like been teased or bullied in school simply because they wear eyeglasses. However, substituting a child's eyeglasses with contact lens can minimize the chance of becoming a victim of bullying or joke.

Contact lenses can help boost the self-image in children, giving children more confidence in the classroom.

Everyone knows how children can be careless about their properties, like their eyeglasses. The fact that kids lose or break their eyeglasses is common. Therefore, children wearing contact lenses can reduce the problem of regularly replacing or fixing eyeglasses.

Activities like sports, karate, gymnastics, dancing etc, are dangerous for children that wear glasses. However, its even more dangerous if they remove the glasses because their reaction time would be slower. Prescribed contact lenses can help these kids' visuals central and convenient with variation sensitivity.

Contacts don't fog when you wear a facemask, and also, they don't get wet during rainy or cold days like glasses.
Call us on 0161 665 3673 to book an appointment with us now! Follow us on Facebook and Instagram @chaddertonopticians  and Twitter @ChaddertonOpti1 for the latest eye health news.