You love styles and glasses, but do you love the good looks you get from your frames? Many people jump into glasses because they love how the frames or colours look, but these cute right excellent looking glasses don't look good on them; the reason? The answer is "Face Shape". Before going for any eyeglass because of its frame or good looks, you need to know that it'll only look good on you if the shape of your face contrasts with the shape of the frame.
You can know the shape of your face by measuring the face length(from hairline to the bottom of the chin) and the width(at the cheekbones not ear to ear). Another method of doing this is by looking into the mirror and using a lipstick, washable mascara, eye-shadow, or anything to outline your face's shape on the mirror, which you can clean easily the moment you're done. Glasses should upgrade your look not obscure it!
So here's a list of the types of faces and frame shapes:
Circle or Round-Shaped Face
The circle-shaped face also called the round-shaped face, has a delicate feature of a wide jawline. A jawline is as wide as the forehead, full/wide cheeks, soft chin.
Features
The face is as broad as it is long(proportional in length and width). If your face contains all these features, then you have a round-shaped look. Here's is a good example of  Hollywood celebrities with round faces: Chrissy Tiegen and Leonardo DiCaprio.
Strong angular shapes like the rectangular frame, cat-eye frame or D frame are the best for this category of face to really bring out that virtue, break the softness and add structure to the face. Go for frames that the bottom hits right above the cheeks. You might as well want to avoid the circular, small and rimless frames because they might stress the roundness of your face.
Diamond-Shaped Face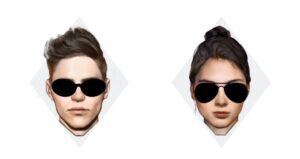 The diamond-shaped face is longer than it is wide. People with this face have a narrow forehead and a narrow jawline with broad cheekbones. Just like the precious stone, this face is also the rarest to find. Frames that have detailing and typical brow line will accentuate the eyes and softens the cheekbones. Try round, oval or rimless frames because they'll suit the softer, more feminine shape.
The least appreciative frames for people with a diamond-shaped face are the boxy rectangle/square or any straight across frame. They will only add emphasis to the widest part of the face rather than enhance it.
Heart-Shaped Face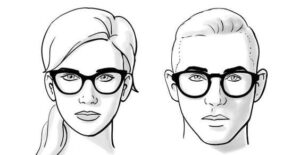 This could be the most difficult face to identify but not that confusing from today. It is characterized by a wide forehead and a narrow jaw. The forehead is the widest part of the face then gradually narrows down towards the chin. It isn't easy to identify because most people bring cheekbones into consideration. You may or may not have cheekbones because the main focus is that the forehead is wider than the jawline. The face is longer than it is wide.
With this type of face, you should consider going for frames that are slightly wider than the forehead for it to fit properly. The rectangular-shaped frame is also the right choice as it adds balance to the lower part of the face. Rimless frame, light-coloured, thin or clear plastic always looks "wow" on people with this type of face. You might as well want to avoid the square and oval-shaped frames. Heavy and frilled glasses should also be avoided as they might devastate your face.
Oblong Face Shape
People with this type of face have a face that is longer than it is wide. The outline of the face looks like a tall rectangle containing rounded corners. Oblong faces also have broad but even jaws, forehead and cheekbones. Wear oversize glasses to play up your looks and go for wider frames than your face, shapes that are rounder with more depth. Avoid any too small and short frame.
Oval-Shaped Face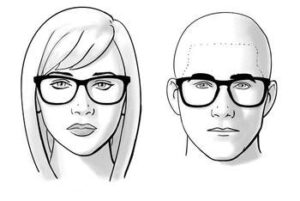 Most people consider this ideal face shape because the forehead, jaw and chin are all proportionate. It is longer than it is wide similar to oblong but with a more curve to the sides, a tapering jawline and a softer chin. Rectangle and square-shaped frames add a little bit of structure to this soft face, but this face is unique when it comes to frames and matches almost any type of frame so that you can enhance your delicate features with almost any type of frame. The only frames to avoid are oversized.
Square-shape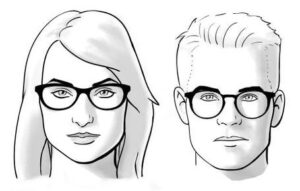 If you have a broad forehead and strong jaw that happens to be prominent, you belong to this category with the face as wide as it is long. Cheekbones may also be prominent but not wider than the forehead or jawline. The primary feature of this face is the prominent strong jawline. A good example of well-known people with this face includes Olivia Wilde and Josh Hutcherson.
People with this type of face best fit in a soft, more round frames that sit high on the nose; these frames will soften the face's lines. Cat eyes frames can also be a good match for people with this face as it helps enhance the shape of the face and add more softness. Frames to avoid with this face are the rectangular or square frames which will only intensify the face's angles. You might as well avoid any heavy around the eye frames to keep it well built without being overwhelmed.
Rectangular Face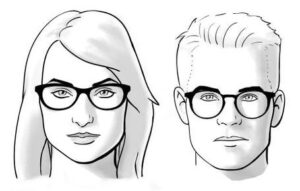 The rectangular-shaped face is similar to the square-shaped face because they both have the forehead and strong jaw's standard features with the cheekbones in line with the forehead and jaw. What differentiates the two is that the rectangular-shaped face is longer than it is wide, unlike the square-shaped face.
Best matches for people with this face are the curvy and oval-shaped frames, and similar frames a square-shaped face person would rock. Frames should contrast with the face's shape, so, the rectangle and square-shaped frames should be avoided. Don't go for any too-small frame because the wider the frames, the more flattering.
Triangle or Pear-Shaped Face
What defines this face is a broad jawline, wide around the chin and cheeks area and narrow down towards the forehead. Best frames for this category are the Brow-line, cat eyes, and frames heavily accented with colour and detailing on the top half (brow) of the frame because they add a little bit balance to a more narrow forehead. Aviators can also be a good option for this category because they are a universal accessory. Unfriendly frames for this type of face are the wayfarer, oversize, and square because they don't balance the lower and upper part of the head.
There are more face shapes than just these, so don't feel bad if you can't find your category up there. But which so ever category you are, here are two points to keep in mind before choosing a frame.
The more angular your face features, the rounder the glasses should be.

The rounder your face features, the more angular the frames should be.
Bonus:
You can also know your face shape and go for the recommended frames but still won't like/feel or appreciate how it looks on you, and that's simply because skin tone also matters. The shape of the frame should contrast with your face's shape; frame colour should also contrast with your skin tone.
Light tortoise frames will look better on people with dark skin tone.

Dark tortoise frames will look better on people with light skin tone.
And if you wear metal frames, you should check your skin undertone(warm or cool). Look at the veins on the inside of your wrist, if they are greenish that means you're probably under the warm undertones, and gold metals would look better on you, but if the veins are bluish, it means you probably have the cool undertones and silver would fit you better.
Remember, glasses are an amazing way to add attractiveness, personality, feature and proportion to your face, so don't just look at them as a prerequisite. Think of them as a super cool accessory.
Call us on 0161 665 3673 to book an appointment with us now! Follow us on Facebook and Instagram @chaddertonopticians for the latest eye health news.